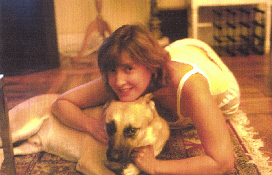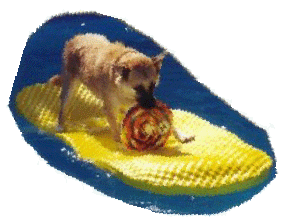 I found Wilson in the summer of 1997 when I was walking by Barnes & Noble on Broadway and 82nd street. A woman with a display on the sidewalk had abandoned kittens & cats in cages trying to find them homes. I didn't pay much attention because I'm not into cats, but just as I was passing I noticed out of the corner of my eye she was holding the cutest little puppy. I stopped to see him and she let me hold this little bundle of fur, he was only 8 weeks old. I was told the puppy had just been rescued when someone threw him over a fence in Brooklyn a day earlier.

He looked up at me w/ those sweet & soulful eyes and licked my face. I wanted to adopt him right then, but she informed me another woman had just claimed him and would be right back. I decided to stay a while anyway, and held him on my lap in her chair. The woman came back 20 minutes later and said when she described the puppy's large paws to her boyfriend on the phone, he said not to adopt him because he was afraid he'd grow up to be too large a dog. That's how I got to adopt him for myself! (Glad I stuck around.)

My boyfriend & I named him "Wilson", because we both love tennis so much and just that week had bought new "Wilson" tennis rackets. We thought it would be fun to have him retrieve our 'Wilson' tennis balls.

We think Wilson resembles Robert DeNiro, mainly because he has the same "mole" on his cheek. We aren't sure his background, but the Vet told us he is probably a mix of German shepherd and Labrador retriever. His face looks like a Shepherd and his body like a Lab, he also loves to retrieve, catch and is a great swimmer!

Wilson is multi-talented…his most unique skill is that he can talk and sing! He can count from 1-5 and he says "Wilson" and "I Love you" His favorite song to sing is "Sing A Song." He also knows all basic commands like sitting, lying down, shake and "slaps you five" with his paw. He can stand up on his hind legs and dance around. He helps me with the laundry by picking up fallen articles of clothing and bringing them to me, as well as helping me put my socks & sneakers on.

Wilson does volunteer work with me through "The Good Dog Foundation". We visit old age homes, Read aloud programs w/ children in grade schools - and eventually will visit hospitals too. Wilson is a therapy dog for all who can interact with him - as his Good Dog vest reads: "Dogs Helping Humans Heal".

Wilson deserves to be crowned "Mutt America 2004" because he is the coolest, sweetest, smartest, friendliest & most affectionate dog around. He brings love and joy to all adults & children who come into contact with him!